Lisa K Schmidt Dressage Training & Coaching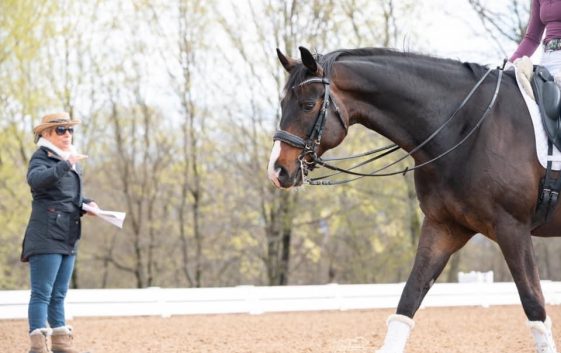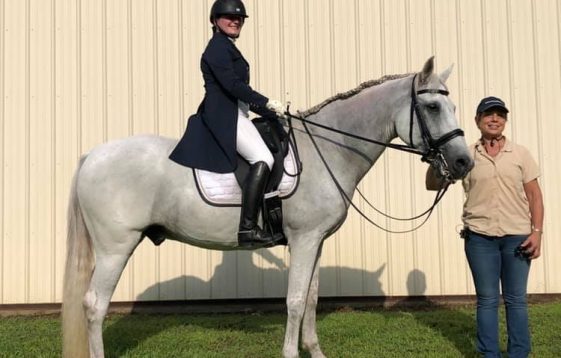 Currently, Lisa is showing her new horse Luuk (Glamourdale x Jazz) at First Level and schooling him for Third Level for 2024.
Lisa's other horse, Qrown Prince competed at Prix St Georges in 2022 and at the Region 1 Championships where she also competed at Fourth Level for an 8th place. He is schooling the GP for 2024. Lisa has trained "Prince" since he was 3 years old. At five, in 2015  he won the Region One Championships at Training Level then on to place eighth at the US National Finals at Training level. Lisa and Prince moved up to second level placing sixth in the Region 8 Championships and again qualifying for the US National Finals.They showed Third level with many scores in the 70's and qualified for the USDF Regional Finals were he was in top 9 placings.
Lisa trained her last Grand Prix mount, Ihorn, from Third Level and showed him successfully at Grand Prix from 2004 to his retirement in 2012. With Ihorn, Lisa accumulated over 25 scores above 60% at the FEI levels with several Regional Championship and Reserve Championship placings.
Lisa has several clients' horses in training including two PRE geldings, one from Spain and one from Mexico which she discovered while judging in Mexico City.
Lisa trains horses of all breeds and believes dressage training can make any horse a better athlete.
2024:
TBA

2020:
Adult Amateur Bronze medalist Champion US Pony Finals
2019:
Sixth Place Adult Amateur Second Level at US National Finals
NAYC Member of Region 1 Junior Team
2018:

Sixth Place Adult Amateur Training Level at US National Finals
Seventh Place Adult Amateur Third Level Freestyle US National Finals
Seventh place Dressage Seat Equitation Finals 13 and under
Reserve Champion US Pony Finals

2017:
NAJYRC Junior Team Silver medalist
Fifth place Junior at Festival of Champions
US National Dressage Childrens Champion.
2016:
NAJYRC Junior Team Bronze medalist, Sixth place Junior at Festival of Champions
2015:
US National Dressage Pony Champion, one USDF Bronze medalist
2013:
USDF Bronze Medalist at 16 years old. This same rider won the USDF/GAIG Region 8
Championships at First Level Junior/Young Rider.
2012:
Two USDF Silver Medalists,
Top placing junior rider at Dressage at Devon in the FEI 5 year old division
2008/2010:
Two USDF Bronze Medalists
One USDF Silver Medalist
2007: USDF Region 8 ABIG Championships:
Fourth Place Second Level Open
Sixth Place Third Level Adult Amateur
BLM Championships: Fourth Place Second Level Senior
2005:
BLM Championships: First Level Senior Champion
2004:
USDF Adult Amateur Horse of the Year: Sixth at First Level.
USDF Region One Championships: Adult Amateur Champion at Prix St Georges
USDF Region One Championships: Adult Amateur Reserve Champion at Intermediare 1.
2003:
USDF Adult Amateur Horse of the Year: Sixth at Prix St Georges